If you spend a lot of time in front of the computer, whether playing or working, and you want to avoid back problems and get your posture right, don't miss our test of the TITAN Evo 2022 gaming chair from Secretlab.
Not all gaming chairs offer good posture and comfort, or durable materials that guarantee a long life. But this Secretlab TITAN Evo 2022 is a gaming chair that meets these requirements, as we will see during the test.
Secretlab is a company that has extensive experience in this type of product for gamers, and its line of chairs is proving to be a great success. Many top gamers and streamers use chairs from this manufacturer, and even in this new generation, it's still a comfortable, well-built chair that looks as good as the previous generation. And as we'll see below, the 2022 version offers some great new features that put it ahead of the competition.
Granted, this is not a cheap gaming chair, but a high-end one, but considering what it offers, we think it is very competitively priced.
Secretlab is now making the new TITAN Evo 2022 available to a wider audience by offering it in three new sizes. These are small (S), medium (M) and extra large (XL). This means that depending on our weight and height, we can get the seat that suits our physiognomy.
There are also different versions with different finishes. First there is the fabric version called SoftWeave Plus, which we tested for this report, as well as another version in neo-hybrid leatherette and another in NAPA leather.
In the following, we will detail the new Secretlab TITAN Evo 2022 gaming chair and give you our opinion on it.
Review Secretlab TITAN Evo 2002 gaming chair
ADVANTAGES
Very comfortable

4-way adjustable lumbar support system

Interchangeable magnetic armrests

4D armrests

Magnetic headrest cushion

High-quality materials and construction ensure durability for years to come

Available in three different sizes

High-quality materials and construction ensure durability for years to come

It doesn't deform with weight
DISADVANTAGES
Armrests rattle a bit

Additional accessories are quite expensive
Features and new developments
Table of main features and innovations

Before we look at all the features in detail, here is a summary of the Secretlab TITAN EVO 2022's specifications and new features compared to the previous TITAN 2020 series.
Features Secretlab TITAN Evo 2022 gaming chair
Patented ergonomic seat with pebble-shaped base
Secretlab Softweave Plus fabric
Secretlab Neo hybrid synthetic leather
4-way L-Adapt lumbar support
4D metal armrests
Cloudswap armrest replacement system
Magnetic viscoelastic foam headrest
Shorter and redesigned Class 4 hydraulic system
NFC anti-counterfeiting label
Cool foam
High backrest with recline up to 165
Multiple tilt mechanism
Aluminum wheeled base
Extra-large polyurethane casters
Available in three sizes: S, R and XL
Warranty extendable to 5 years
TITAN Evo 2022 Main Novelties
Magnetic viscoelastic foam headrest: New strap-free design that attaches magnetically to the backrest.

Secretlab NEO hybrid leatherette and SoftWeave Plus fabric: New state-of-the-art materials made from selected materials for outstanding feel and durability.

Ergonomic high back with a layer of cold foam: Provides the ideal foam density for optimal support and is molded and contoured to minimize maximum pressure points.

Recalibrated recline lever angle and redesigned lumbar adjustment knobs.

Magnetic side covers for easy snap-on mounting.

L-ADAPT 4-way lumbar support system: Intelligently adapts to the spine. Increased curvature height and a wider range of motion provide up to 57% more back coverage, perfectly spanning the curve of the lumbar region. A revolutionary structure of 63 adaptive movable hinges flexes with micro-movements to adapt to the unique shape of the user's body for more targeted support.

Patented pebble-shaped seat base: Molded for superior ergonomic comfort. The new seat base design allows for natural movement and different positions, while the slightly sloped side wings help guide the body toward the center of the seat.

Redesigned height and tilt adjustment levers for improved positioning and easier access.

ADC12 aluminum caster base: For optimal weight balance and reinforced for greater stability.

Extra-large polyurethane wheels: Provide a quiet and smooth glide that does not damage the floor.
Unboxing and assembly
Packaging, accessories included, assembly …
As soon as we open the box, we find a huge assembly manual that explains all the steps to assemble the chair. All the steps are illustrated, so you know exactly what you need to do.
When we take out this guide, we find all the elements that make up the chair, separated and well protected in plastic bags.
Here is the list of accessories included in the delivery:
Magnetic viscoelastic foam headrest
Secretlab TITAN Evo Backrest
Secretlab TITAN Evo seat support
Secretlab PU foam armrest covers (compatible with CloudSwap)
2 magnetic side guards
Multi-functional tilt mechanism
Class 4 hydraulic pistons
Hydraulic sleeve
Height adjustment Tilt lever handle
Lever handle for tilting lock
Aluminum wheelbase
Extra large polyurethane wheels
Assembly tool set Long Allen key
4 M8 screws
Magnetic screwdriver handle
Reversible Phillips and hex screwdriver tip
Unlike other chairs we've assembled so far, assembling the Secretlab Titan EVO 2022 was fairly simple. All the tools needed for assembly are included in the delivery, and instructions explaining all the assembly steps are provided. The screws fit perfectly, and thanks to the manual, the whole process was pretty simple. These are details that you will appreciate and will save you time and energy during the assembly.
To ensure your safety during assembly, Secretlab even designed the chair so that the adjustment lever locks in place during assembly.
Although one person can assemble the various parts of the chair, we recommend that you have another person help you if possible, as the chair itself and some of its individual parts are quite heavy.
Design and finishing
Exterior appearance, materials …
The Secretlab Titan Evo 2022 is available in three different versions: SoftWeave Plus fabric, NEO hybrid leatherette and NAPA leather. The version we are interested in is the SoftWeave Plus fabric version which makes its debut in this TITAN Evo 2022 and replaces the standard SoftWeave version.
The choice of one or the other fabric depends on your specific use and needs. The new SoftWeave Plus fabric is recommended for warmer climates, as it breathes better than leather and is more scratch resistant if you have pets in the house. It also requires less cleaning and loose particles can be easily vacuumed up. Stains, however, are more difficult to remove.
In this new fabric, loops of high-strength yarn fibers have been woven into each other, allowing small details to be incorporated into each stitch. This control of each yarn allowed the brand to achieve intricate designs with multiple layers of color, varying shades and tones.
The new NEO hybrid leatherette, meanwhile, promises greater durability than normal PU leather and has the advantage of being easier to clean than the fabric version. Finally, there is the NAPA leather version, which is much more expensive (almost double), but offers much better breathability than the NEO leatherette version, and the material is more robust.
It depends on individual taste, as there are users who prefer the look and feel of leather and others who prefer fabric for its better breathability. Although we focus on the SoftWeave Plus fabric version that we have and tested last month, what we say in this report is also valid for the other leather versions.
Another highlight of this model is the wide selection of designs and colors, including limited versions of the most popular video games.
There are eight different colors in the SoftWeave Plus fabric version, including Cookies and Cream, which we have. In the neo-hybrid leather version, there are no less than 44 versions so far, including special editions of esports and video games like Cyberpunk 2077, Minecraft or Pokémon, among others.
Another new feature of this new 2022 version are the interchangeable armrests with the CloudSwap system. The supplied armrests are magnetic and can be replaced with Secretlab's Technogel armrests, available separately.
The combination of aluminum, high quality plastics and SoftWeave fabric in our model makes this chair truly unique.
The control levers are very stable and effective to the touch, and Secretlab has also shortened the hydraulic system so that smaller versions of the chair can accommodate more people
The quality we perceive on this model is really good and the stitching is very secure and there doesn't seem to be any point where it could be weak to the touch and tear. We've been using this chair for 8 months and it doesn't look like we'll have any long term issues in this area.
Comfort
Backrest, seat, posture …
Secretlab's TITAN Evo 2022 series combines the OMEGA and TITAN chairs into one model. It is slightly wider and taller than the previous model, offering more comfort and space. The new TITAN Evo is equipped with a 4-position adjustable lumbar support, integrated into the seat and adjustable in height and depth for maximum comfort.
To satisfy all users, Secretlab has introduced three different sizes: S (Small), R (Regular/Medium) and XL (Extra Large). Below is a size chart.
Secretlab Titan Evo 2022 gaming chair size guide
The Secretlab TITAN Evo 2022 is available in three different sizes so that you can choose the one that best suits your height and weight. The three sizes and requirements are as follows:
Small size (S)
Height: For people with a height between 1.70 and 1.89 meters.
Weight: People weighing less than 100 kilos
Maximum weight supported: Up to 130 kg

Regular size (R)
Height: For people less than 1.70 meters tall
Weight: People weighing less than 90 kilos
Maximum weight supported: Up to 130 kg
Extra big size (XL)
Height: For persons of between 1.81 and 2.05 meters
Weight: People with a weight between 80 and 180 kilos
Maximum weight supported: Up to 180 kg
The Secretlab TITAN Evo 2022 has a wide range of seating configurations, allowing you to sit in any position. The backrest is nearly flat and can be adjusted to 165 degrees, and for more relaxed play, the entire chair can be adjusted. As we'll see in more detail, the side wings have been widened and the curves a little more pronounced. And all this for a seat that gently supports the shoulders while relieving them. Secretlab has also slightly curved the seat to ensure a correct sitting position.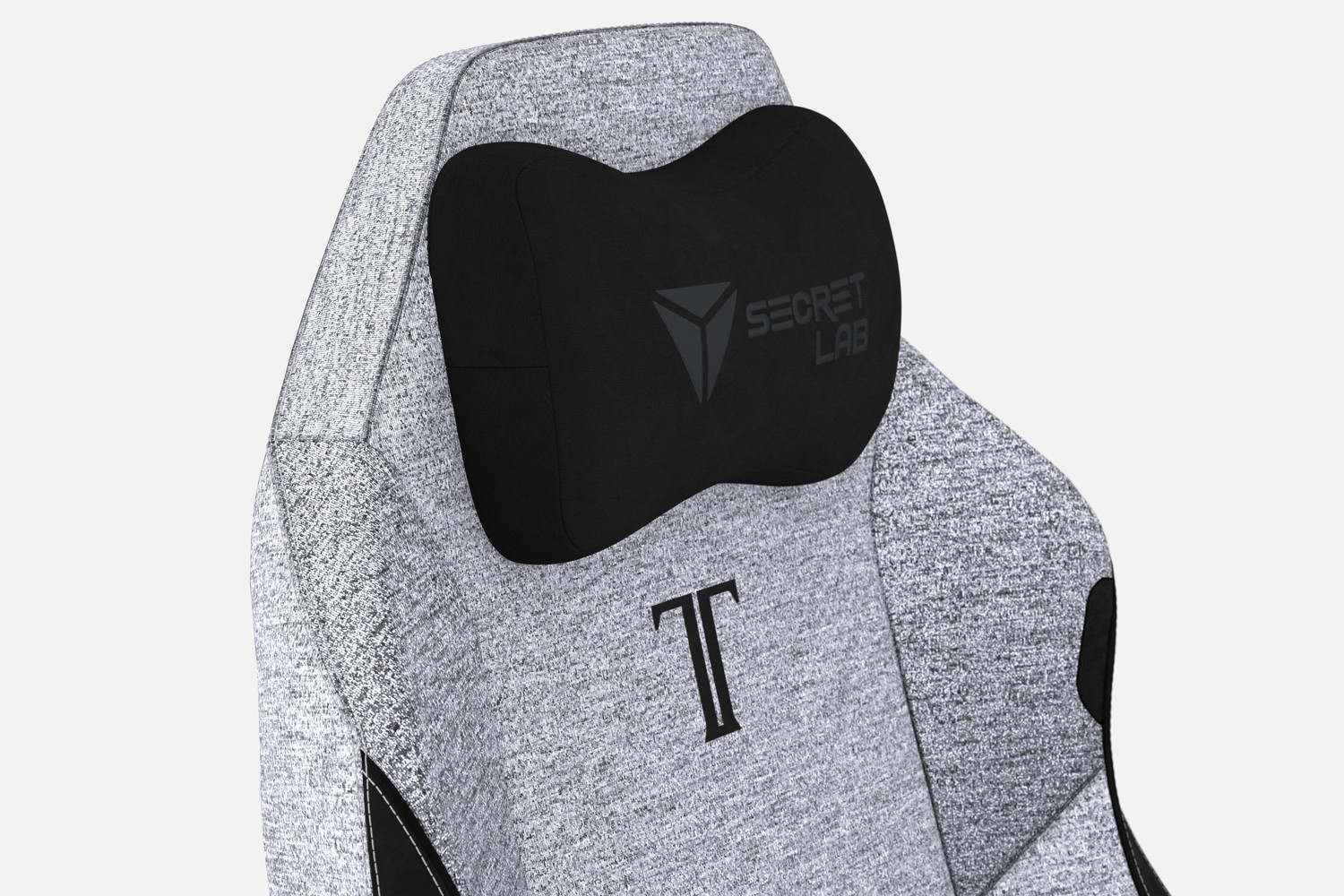 Secretlab official store
Gaming chair with adjustable lumbar support, magnetic headrest and 4D armrests
The truth is, as the days went by, we fell more and more in love with this chair. At first, the seat seemed a bit hard, which was already the case with previous Secretlab models. On other gaming and office chairs we tried, the seat was softer and less stiff, but after a while, it would sink in and become less and less comfortable. After a few days, the hard feeling diminished and we found it increasingly comfortable.
Now let's go into detail and comment on all the elements of the chair point by point.
Backrest
Secretlab redesigned the backrest of this TITAN 2022 by widening the side wings and making the curves more pronounced. Care has been taken to ensure that the seat supports the shoulders gently while taking the pressure off them.
The TITAN EVO 2022's lumbar support is built-in and has a pair of knobs on the left and right sides of the chair that you can move to adjust the chair to your needs.
The company has developed a very ingenious system that allows the lumbar support to be adjusted in 4 directions, i.e. inwards and outwards as well as upwards and downwards, carefully adapting it to the curve of the lower back.
There are two adjustment wheels on the sides for this purpose. So not only do you not need an uncomfortable cushion to support your back, but you can even adjust the lumbar support of the TITAN Evo while you are sitting in it. This makes it especially easy to adjust it properly to your spine.
It uses a structure of 63 adaptable mobile hinges that bend with micro-movements to adapt to your specific body shape and provide unbeatable support.
"The titan evo 2022 offers great comfort with the new adjustable lumbar support, so you can always find the optimal support for your back."
If you want even more support, you can purchase the Lumbar Pro cushion, which the company launched especially for this new version. Its thickness has been optimized to 77mm, so you can still take full advantage of the four-way adjustment, with an extra layer of cushioning for lasting comfort.
If you want to take a break and relax, you can recline the backrest. The maximum recline angle is 165° and has a locking feature that allows you to lean back and relax safely.
Headrest
The headrest is one of the improvements introduced on the TITAN Evo 2022. It is now magnetic and not with straps as on the TITAN 2020.
We think it's a great idea and very useful, because to place the cushion, you just stick it on the chair and it stays in place thanks to the built-in magnets. The cushion is made of viscoelastic memory foam and is enriched with a cooling gel.
It's super comfortable and it's also very cool to rest your head on. The upper curve is now more pronounced to better support the lower part of the head in a neutral position.
Aesthetically, it's even better because the headrest is no longer held in place by an elastic band, but by a strong magnet that keeps it in the desired position.
Seat
First of all, it is worth mentioning the pebble-shaped design of the seat. This shape gives you freedom of movement, but also brings you back to the center of the seat thanks to the side wings, for more comfort.
At first, we felt like the seat might be too firm, and the first couple of days we weren't entirely satisfied. But after the third day of use, it started to feel less hard to the touch and today it feels perfect.
In our experience, a soft seat may feel good at first, but over time it definitely affects your posture. If the seat is too soft, it lacks the support needed to maintain the natural curvature of the spine.
The Secretlab TITAN Evo 2022 has a generous layer of high-density foam that provides even weight distribution in all directions and effective pressure relief.
In addition, the seat slope has been reduced to reduce pressure on the thighs, while the sharper angle of the seat edge reduces pressure behind the knees and allows greater freedom to place the feet under the seat.
The hydraulic height adjustment system works smoothly and effortlessly, allowing you to find your ideal position.
Base with wheels
The base is made of aluminum and designed to be sturdy and durable. It has extra large polyurethane wheels that move smoothly and quietly. When you move the chair, it is super quiet and delightfully smooth.
If you're using it on delicate surfaces, don't worry because the polyurethane coating prevents scratches on the floor.
Armrests
The Secretlab TITAN EVO 2022 chair has 4D armrests that offer incredible freedom of movement. They can swivel up and down, sideways, forward and backward and even in and out. This allows them to be individually tailored to your desk.
The armrests themselves are quite large, so they support the entire arm without any problem. The levers and flaps that adjust the armrests are also very well made. Thanks to CloudSwap technology, the armrests are interchangeable and simply attach with magnets, making replacement a snap.
There is one small drawback, however: they rattle a bit and cause slight movement and noise. It's not something that affects durability or gives cause for concern, as we've seen with some other models.
Final opinion – Is the Secretlab TITAN Evo 2022 worth it?
Last thoughts and final conclusions
The Secretlab TITAN Evo 2022 is, in our opinion, an extremely comfortable gaming chair that offers you a lot of comfort during your gaming sessions. It is designed to keep you in a neutral and healthy position at all times, while evenly distributing weight and reducing pressure on the most exposed areas.
The Secretlab TITAN Evo 2022 provides all the essential adjustments for a good sitting position. The lumbar camber adjusts to an appropriate height and provides an evenly distributed support surface that adapts to and supports your lumbar region.
The brand has put a lot of thought into creating a durable chair that can withstand many years of daily use, and materials that show signs of wear and tear, as we have seen on other models. The materials are of excellent quality, and during the time we flew it, we hardly felt any signs of fatigue, even though we sat in it for a long time. At first, you may find the seat a bit hard, but after a few days, this feeling disappears and the comfort is first class.
As far as adjustment is concerned, this seat is quite flexible and you can tilt it backwards a lot, which is very comfortable with the memory foam headrest. And then with the headrest, adjustable armrests, adjustable backrest and very comfortable foam, this chair is pretty much unbeatable.
And then there's the wide variety of designs available, because we work with game developers and esports organizers and have official licenses. So you can buy the exclusive editions to get a unique chair.
Honestly, as we have seen in the whole review, the Secretlab TITAN Evo 2022, you can not get many drawbacks to this chair, the only thing we said about the armrests that have some rattles, which does not mean that it is far from breaking, but they dance and sound more than we would have liked.
Another possible drawback is that the extra accessories seem too expensive. For example, the 2020 version included a lumbar pillow, and for the 2022 version there is now the Pro Lumbar Pillow, which can be attached, but costs 69 euros. Of course, the TITAN Evo 2022 is already equipped with a lumbar support, but if you want to supplement it with the new flat cushion, you will have to pay 69 euros more. And if you want to replace the standard armrests with the premium Technogel version, it will cost you an additional 79 euros.
But after taking a close look at everything this chair has to offer, we can say that it may be the best choice if you're looking for first-class comfort, quality finishes and construction that guarantees years of use and a wide range of designs. That's why we think this is one of the best 2022 gaming chairs you can buy.
Its price may seem too high, but we can only tell you that it is not at all excessive considering the many possibilities and comfort it offers. If you take your health and well-being seriously and want to feel comfortable while playing or working, we think the Secretlab TITAN Evo 2022 is worth it.
You can find the Secretlab TITAN Evo 2022 at the best price via the official brand store. Below you will find the prices of the different versions.
See price Secretlab TITAN Evo 2022
Secretlab gaming chairs comparison
The Secretlab TITAN Evo 2022 chair is the company's latest chair, equipped with the latest technology. In this report, we have seen the TITAN Evo 2022 chair, but Secretlab also works with another model like the OMEGA chair, which has a slightly lower price. We recommend you to buy the TITAN Evo 2022 series, but below you will find a comparison table to know the differences between the two models.
FINISH
SIZES
SEAT
lumbar support
HEADREST
ARMRESTS
FOAM
TILT
WHEELS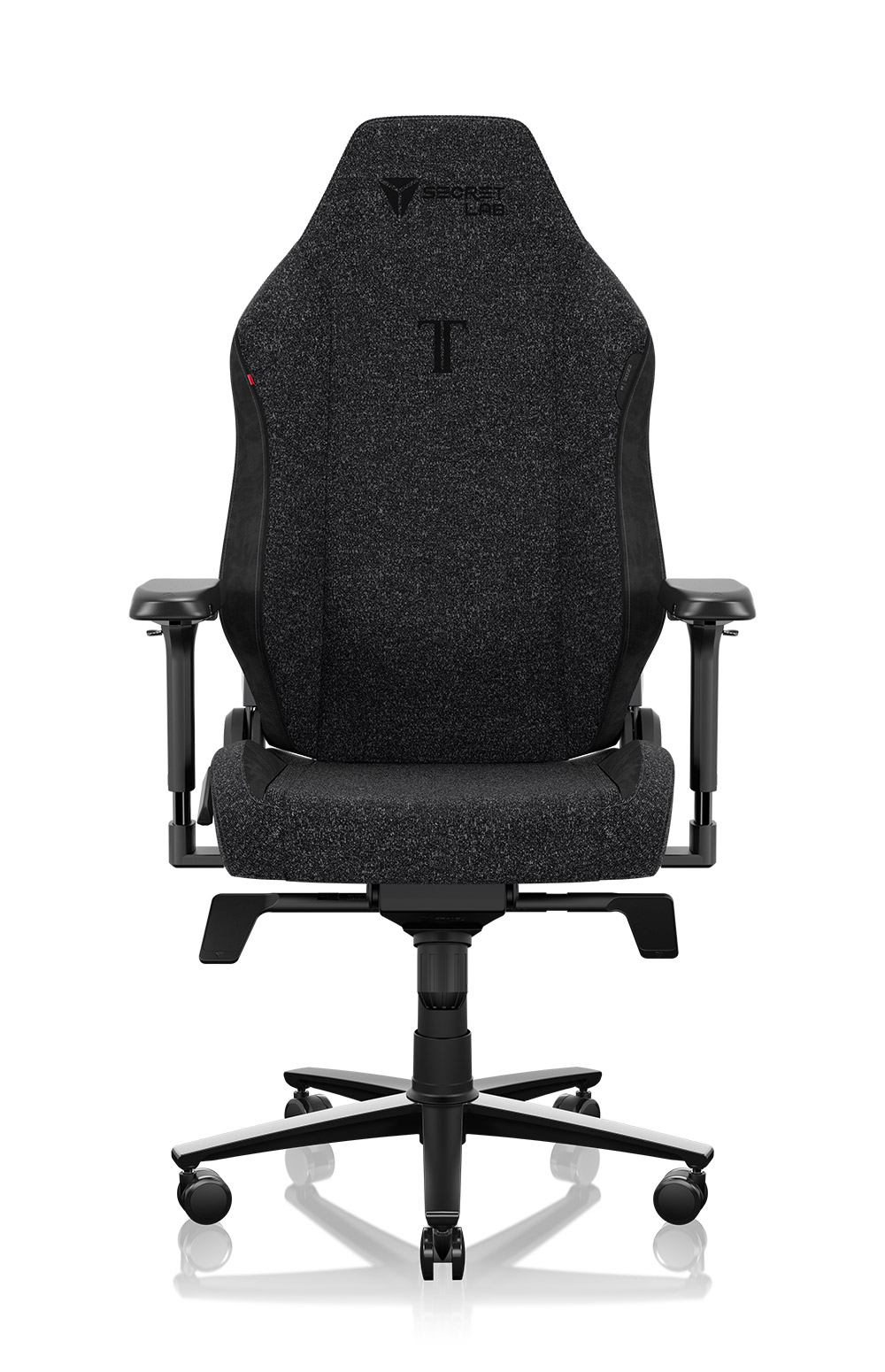 TITAN EVO 2022
New 2022 model
SEE PRICES
FINISH
– Secretlab NEO hybrid synthetic leather
– Secretlab SoftWeave Plus fabric
SIZES
Small, Regular and XL
SEAT
Patented seat with pebble-shaped base
lumbar support
Patent-pending L-ADAPT lumbar support system, with 4 directions of rotation.s
HEADREST
Magnetic viscoelastic foam headrest with cooling gel
ARMRESTS
4D all-metal armrests with CloudSwap replacement system
FOAM
Patent pending cold foam
TILT
Up to 165º with multi-tilt mechanism
WHEELS
Extra-large polyurethane wheels
OMEGA
2020 model
SEE PRICES
FINISH
– Secretlab PRIME 2.0 PU leather
– Secretlab SoftWeave fabric
SEAT
Precisely adjustable seat base
lumbar support
Lumbar pillow made of viscoelastic foam
HEADREST
Viscoelastic foam headrest with cooling gel
ARMRESTS
4D all-metal armrests
FOAM
Patent pending cold foam
TILT
Up to 165º with multi-tilt mechanism
WHEELS
Extra-large polyurethane wheels
Preguntas frecuentes
Is Secretlab a reliable brand?
Secretlab is a company founded in 2014 in Singapore by two professional esports gamers and has since been dedicated to manufacturing gaming chairs as well as desktops and other accessories.

Secretlab invests millions in R&D, and even has an independent Ergonomics Advisory Board made up of experts and academics from various fields to work with its engineers.
We can assure you firsthand that all Secretlab chair components have been tested to exceed industry standards for durability and reliability.

What is the warranty on the Secretlab TITAN Evo 2022?
The warranty for manufacturing defects is 3 years, but the brand gives you the possibility to extend the duration up to 5 years by simply sharing a photo of your chair on social networks.
What are the differences between the TITAN 2020 and the new TITAN Evo 2022?
The main differences between the TITAN 2020 and TITAN Evo 2022 are several:
Firstly, three different sizes are now offered to better adapt to the physiognomy of the user. While the TITAN 2020 was recommended for people up to 200 centimeters tall and supported a maximum of 130 kilos, the TITAN Evo 2022 goes up to 205 centimeters and supports up to 180 kilos of weight in the XL version. Then there is a medium size and a small size for people with less height and weight.

Another difference is that the Titan EVO 2022 has magnetic and interchangeable armrests.

The headrest with straps has also been replaced by a magnetic one that allows greater freedom of placement and is aesthetically much better.
But the big difference is the new 4-way lumbar support that allows you to adjust it more specifically to your back by means of two wheels on the sides.

Neo Hybrid Synthetic Leather or SoftWeave Plus fabric: Which should I choose?
The choice between one finish or another will depend on your use and personal preferences. To clear up any doubts you may have, here is a summary of the main differences we have seen during the review.

– Breathability

Secretlab SoftWeave Plus fabric is designed for an ultra-soft, fluffy feel against the skin and is comfortable any time of year, even during long summer days.
If you live in a tropical climate or don't have access to air conditioning, SoftWeave Plus fabric keeps you cooler.

– Durability

SoftWeave Plus fabric is 3.5 times more durable than its predecessor, while Secretlab NEO hybrid synthetic leather is 12 times more durable than regular PU leather.

The high tensile strength of SoftWeave Plus fabric ensures that it retains its shape and structure, even after years of stretching and moving in its seat. It is also more pet-friendly than synthetic leather.

Secretlab NEO hybrid synthetic leather is designed to be as tough as real animal hide. Its base layer has been reinforced with a custom 3D structure of ultra-fine fibers for exceptional strength and resistance to flexing and abrasion.

– Touch and feel

Secretlab SoftWeave Plus fabric has a spongy texture that exudes a comforting feel.
If you're looking for a touch of luxury, and you like the feel of leather, the NEO hybrid synthetic leather version should be your choice.

– Maintenance

SoftWeave Plus fabric does not require much maintenance and dust and other loose particles can be easily vacuumed up. But because the fabric is absorbent, it does not cope as well with spills.

On the other hand, Secretlab NEO hybrid leatherette is more resistant to liquids than SoftWeave Plus fabric and is easier to clean. However, keeping your chair in top condition requires the use of leather care products.

Evaluation and opinion Secretlab TITAN Evo 2022
The Secretlab TITAN Evo 2022 gaming chair is extremely comfortable, providing great comfort for your long gaming sessions. It is designed so that you always adopt a neutral and healthy posture, while distributing the weight evenly and relieves the areas that suffer more pressure. It incorporates exclusive technologies such as a 4-way adjustable lumbar support, magnetic memory foam head pillow and interchangeable armrests. It uses highly durable materials and is available in three different sizes and three different finishes. In addition, you can buy it in exclusive designs of the most famous video games or esports. For all these reasons, it is one of the best gaming or telecommuting chairs you can buy right now.
PROS
Very comfortable and convenient
Lumbar support system
4D armrests
CloudSwap® interchangeable armrests
Magnetic headrest cushion
High-quality materials and construction ensure years of durability
Does not deform under weight
Makes no noise when moved
Many different colors and materials to choose from
Available in three different sizes
CONS
Armrests rattle a bit
Expensive additional accessories